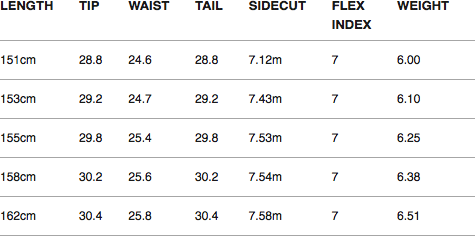 One board to rule the snow
Review by JHeney
From the parks of Co to the steeps of Jackson hole this board hold all. Early season park riding in Co and the temerity rips with it's slightly stiffer flex than the bonzai it holds those big landings but still fun to slide on rails. Steep and deep trees and cliffs in Jackson.. No Problem!! With the directional stance this boards rips fast and holds on deep big cliff landings! Truly one board to rule the snow!!
Temeritastic
Review by Banana32
I love my new board. I was riding really outdated technology and didn't realize how much it was holding back my riding. The temerity has really opened my eyes and improved my riding. I love the responsiveness in the trees and the float I have in powder; my two most important qualifications in a board. I am getting used to the increased flex which I didn't have in my last board. I am still learning to have confidence in it to hold an edge when I'm bombing groomers. Over all I love this board and can't wait for the weekends so I can get back out to do what I love!!
In Absolute LOVE
Review by MAX
I ABSOLUTELY LOVE THIS BOARD IT IS VERY VERSATILE! Agile Quick responsive great value and durable. This board wont disappoint you and will be a huge upgrade from anything your riding currently for a All-mountain style board at this price you cant beat it.
High Society is where its at.
Review by Carl Grando
I have last years Models of Twilight and Temerity and LOVE them both. Temerity is my go to board when teaching and shredding the Mountain. Its super responsive with the right amount of flex for tricks and stability for carving threw that fresh cor-deride with good speed. Its just a fun board all around. If you got the itch to buy one, go ahead and itch it. You wont be disappointed, I promise..
Thank you High Society for making these awesome boards and will continue to ride and promote your products.
perfection in one board
Review by Leif
this is the one board that can do it all. perfect flex to have the ability to charge the big mtn stuff or go play in the park. probably the most gorgeous deck graphic I have ever seen, I get so many compliments on it, its ridiculous. i have ridden every major brand out there and i will keep coming back to H.S. for life now. i cant stress how good this board is and how it can do everything you ask of it.