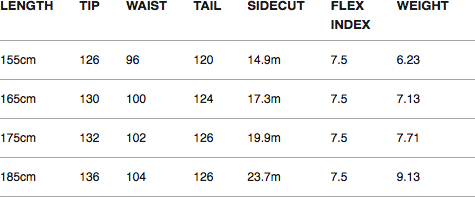 WIDE

Review by I miss Aspen!

One of my mates turned me onto High Society when I lived in Aspen last year. I rented a pair from the folks at Incline and was uber impressed. My wife tried to purchase the 75's for me but HS was sold out. My only complaint is that they seem to be sold out even though the website says the little buggers are in stock! I ordered a pair at the preseason special and cant wait to mount em up.
---
Great in powder/crud, decent on groomers
Review by Svuono
Skis rip in the powder and crud. Fun in bumps just okay on groomers unless your traveling at high speed where the rip. For price great value! Thanxs much!!!
---
High Society = High Quality and High Performance
Review by Will Stenzel

These were a big surprise for me - an extremely high value considering the comps are maybe the Gotama, Ritual, Shreditor, etc. I've put 10 days in so far on the 185's, and not a scratch. The balance between lightness and stability is admirable - I've skied bumps without issue, and am looking forward to really powering some deeper crud. I anticipate these being around for awhile. Don't be afraid of High Society skis - these are viable alternatives to skis costing 2-3 times as much.
---
Great value for almost any condition
Review by Daniel

Love the low weight (and price!). Lots of fun in most any condition, never feel like I have to work too hard to get the handling I want.
---
All-Terrain performance is not a joke
Review by Clay Walberg
My wife gave me the new 14/15 FX's this fall and as a long time skier/snowboarder I was blown away in the first two turns as to how responsive these bad boys were underfoot. These guys at High Society really can take anything that you throw their way and handle any kind of terrain. I've been having so much fun on these that I haven't even picked up my snowboard this winter...